NRF reveals that its carbon-reducing business has invested in a global leader in climate-fighting technology that has won the "XPRIZE Carbon Removal" award from Elon Musk. This carbon-reducing business will be included in the Climate Action Business Group to aim for the Clean Food Company goal.
08 November 2022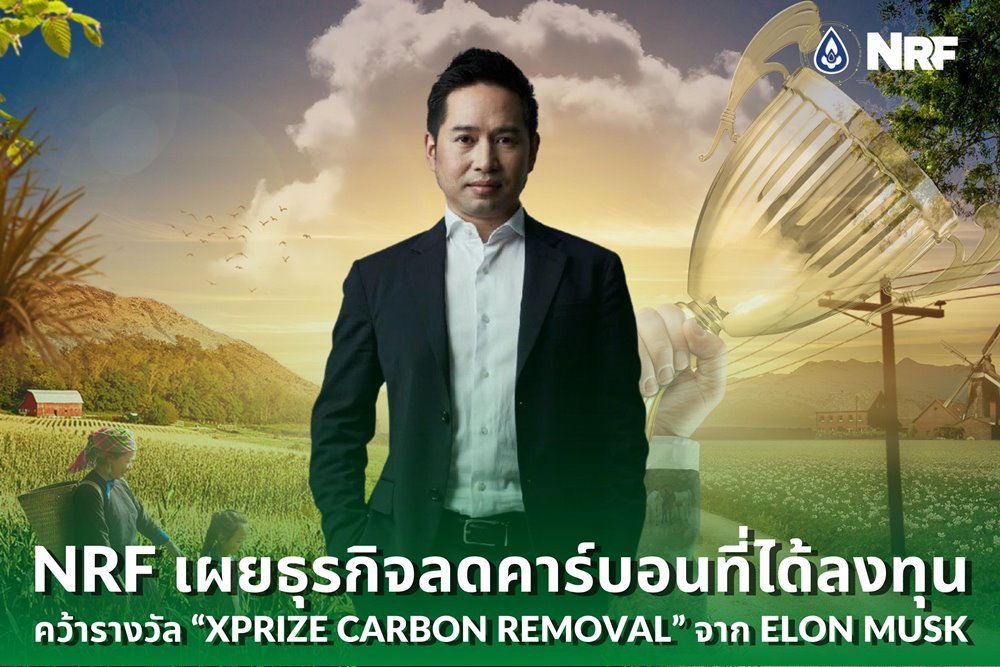 NRF, a Food Industry with Sustainable Operational Goals, brings advanced technology that helps capture carbon to create a new S-curve strategy as an important strategic point. NRF reaffirms its leadership in the sustainable industry by investing in Frontline as a business partner to strengthen its Climate Action Group business and bring carbon-cutting technology to combat global warming. This technology, which won Elon Musk's "XPRIZE Carbon Removal" award, will be used in developing carbon capture projects in the US and Thailand.
Mr. Dan Pathomvanich, Chief Executive Officer of NRF, said that with the current environmental issues having severe impacts and, additionally, because NRF is in the food industry, which is 1 in 3 large industries that emit carbon dioxide, the Decarbonization Project has been decided and it is a significant organ of sustainability operations. Currently, the project is progressing in the direction planned. As NRF has invested in Frontline, this project uses the advanced US technology from Frontline that won the XPRIZE award from Elon Musk. This investment is seen as a component of the BCG Economy's business development strategy as well as a chance for the company to reduce its carbon footprint and support CBAM initiatives in the future.
Furthermore, NRF expected that it would be able to reveal the factory location in 2023 and would be able to clearly see the progress of the decarbonization project in 2024 - 2025. In addition, this project has included carbon experts in the management team. NRF is ready to drive the company to reach the "negative carbon food industry" goal by 2050 and intends to become a leader in the Climate Action Group business.
About Frontline BioEnergy, LLC
Frontline BioEnergy was founded in 2003. Frontline BioEnergy has been designing systems and proprietary equipment for biomass gasification to be a Global Leader in Waste and Biomass Gasification Solutions for Renewable Energy, Renewable Fuels, and Products. As each year passes, there is a noticeable and growing need to explore alternatives for clean fuel and energy production. Frontline BioEnergy has continued to develop its gasification, gas cleaning, and gas conditioning technologies to offer solutions that are practical, cost-effective, efficient and reliable.