NRF partners with WINMED to penetrate global brand supplement market
27 June 2022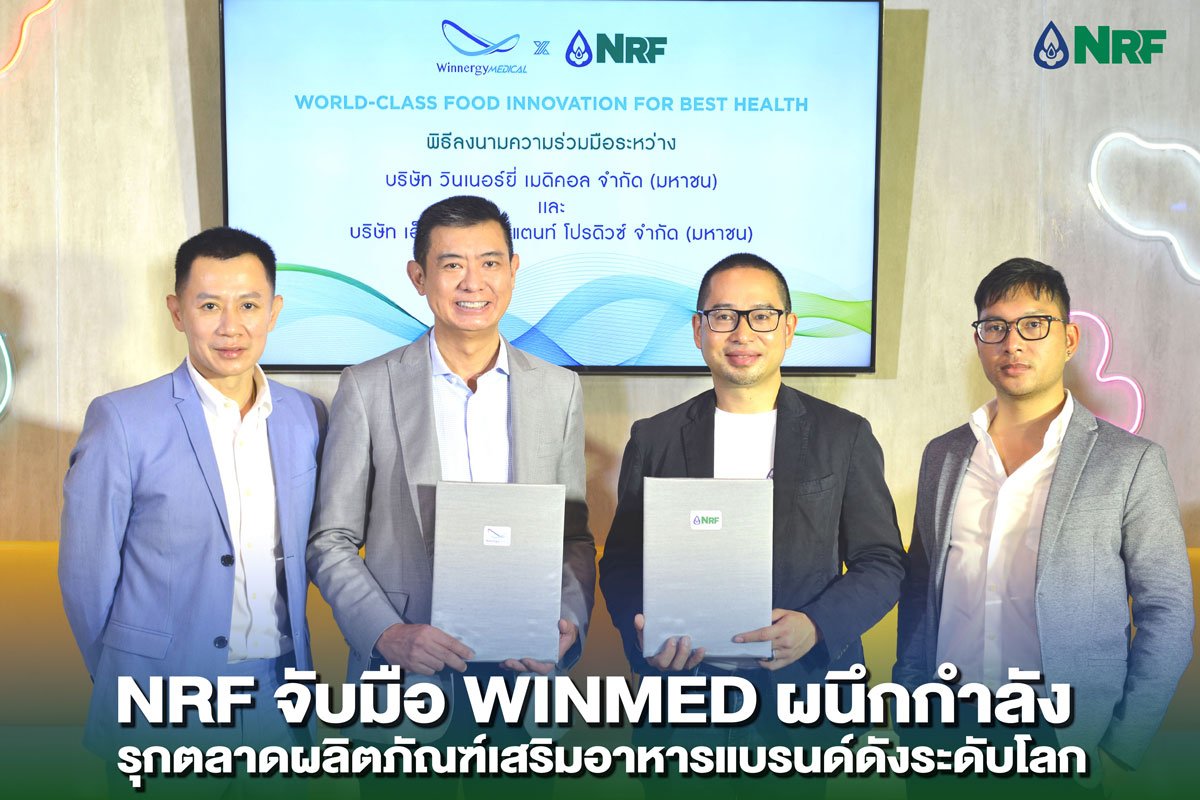 NRF partners with WINMED to collaboratively strengthen and enter into dietary supplement brands in the global stage like Wellpath and Prime Labs, health nourishment, health restoration and supplement products. To support health and wellness consumer trend, the Company plans to launch products and anticipates that, in Q4/2022, NRF's health and supplement products will be available both offline and online channels throughout Thailand as well as confident that this will support strong sales growth attributed to the Company.
Mr. Nantiya Darakannon, Chief Executive Officer of Winnery Medical Public Company Limited (WINMED), importer and distributor of machines and kits for collection, analysis, diagnosis and medical treatment, disclosed that the Company participated in the signing ceremony of business cooperation with NR Instant. Production Public Company Limited (NRF) which manufactures, supplies, and sells food seasoning products, ready meals cooking condiments vegetarian foods without egg and milk Plant protein foods, ready-to-cook and ready-to-eat foods, as well as powdered and water-friendly beverages in order to bring dietary supplements and health & beauty products to be available in the market through the Company's offline and online distribution channels.
The dietary supplements, a health-oriented supplement including nourishing, rejuvenating, and enhancing health, are expected to be launched within Q4/22.
Mr. Nantiya added that this business partnership creates opportunities for the company's core business to meet the needs of consumers in a comprehensive way by bringing the expertise of both companies to help drive the company's significant value-added growth. Due to the incidence of new diseases and Covid-19 pandemic, growing awareness of public health contributes to increase in consumption of dietary supplements and grow in the contrary direction with the overall economic slowdown.
WINMED has over 27 years of experience in health and hygiene related products and technologies with B2B customer base such as government & private hospitals, medical schools, clinics, drug stores as well as multiple strong distribution channels with its online marketing strategy, along with offline marketing (OMNI Channel), it can reach B2C customers nationwide, such as convenience stores. Facebook Line@ websites, as well as shopee platforms, Lazada.
While NRF, a unique specialty food manufacturer, reaches out to Millennial (Gen Z) consumers who focus on eating highly nutritious alternative foods and are leaders in alternative protein foods committed to consumer health and with a vision on combating global warming.
Mr. Dan Pathomvanich, Chief Executive Officer of NR Instant Production Public Company Limited (NRF), said that our partnership is to strengthen the Food & Nutritional Supplement group to support and distribute its strong brand products on Amazon.com to reach consumers around the world. Revenue growth in Q1/2022 was 28% compared to the same quarter in last year. WINMED is an organization specializing in health equipment and technology in Thailand. This synergy is an expansion of the sustainable health market along with furthering and strengthening the supplement and health industry.
NRF plans for 2022 operating performance in the Food & Nutritional Supplement group in order to respond consumer demand. Currently, due to a growing demand, product extension and distribution channel expansion are aimed to reach to consumers in Thailand via partnering with WINMED to gather cooperative advantages from two listed companies. The Company will provide consumers access to Amazon best-selling supplement brands such as WellPath Brand, Brand Prime Labs including products for both women, men and mother and child customer groups. These product lines are consistent with our vision, we remain committed to sustainability for consumers and the world.
The signing ceremony of the business partnership between Winnery Medical Public Company Limited (WINMED) and NRF Instant Production Public Company Limited (NRF) was held at alt.Eatery with the participation of Mr. Nantiya Darakannon, Chief Executive Officer of WINMED, and Mr. Dan Pathomvanich, Chief Executive Officer of NRF