NOVE FOOD collaborate with INNOBIC path to Food for Future to push the joint venture "NRPT" to partner with Plant & Bean (UK) Setting up a manufacturing plant for alternative protein products in Thailand.
25 December 2021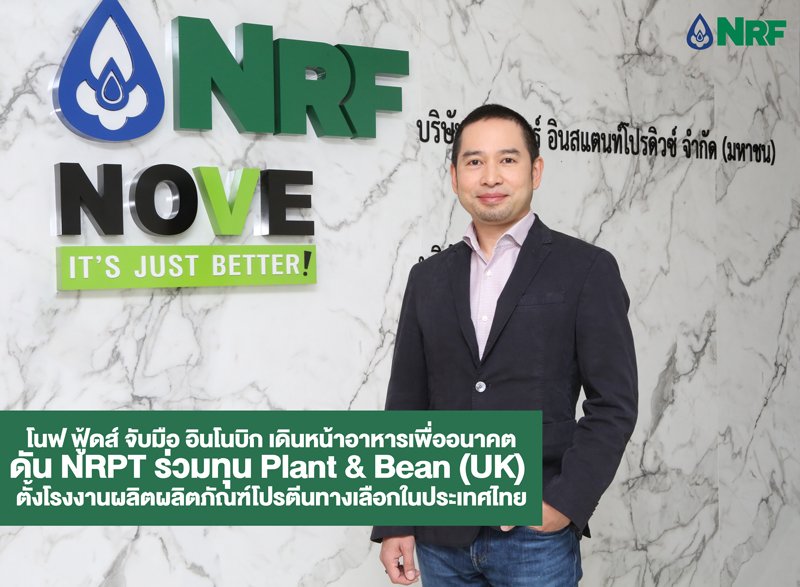 To penetrate healthy food markets in ASEAN, Australia, and New Zealand, the Company Increases alternatives for consumers and entrepreneurs, invests in in food innovation, brings advanced plant-based food production technology from abroad to Thailand
Today (21 December 2021) - Nutra Regenerative Protein Co. Ltd (NRPT), a joint venture between Innobic (Asia) Company Limited and Nove Foods Company Limited, has reached an agreement with Plant & Bean (UK) in the proportion of investment of 51% and 49%, respectively, to set up joint venture company under the name Plant & Bean (Thailand). Plant & Bean (Thailand) aims to produce plant-based products for consumers and food entrepreneurs. It will bring the advanced technology of plant-based protein production from England to install in Thailand, expected to produce 3,000 tons per year. The manufacturing plant is planned to start factory design and construction in 2022.
Dan Pathomvanich, Chief Executive Officer NR Instant Produce PCL OR NRF and Chairman of NOVE FOODS COMPANY LIMITED said Carbon emissions from food industry account for one-third of global carbon emissions. As a sustainable food producer, NRF's future development must pay attention to the production process by starting from creating a business model aimed at reducing carbon and encouraging people to consume more plant-based food. Also, the platform of Plant & Bean (Thailand) can reduce carbon emissions by 12 million tons per year. However, if the consumers choose to consume environmental-friendly food, it will contribute to reduction of greenhouse gas emissions. Currently, plant-based food industry in the United States can substitute meat market share by over 3.6% and, in the next 10 years, plant-based can penetrate meat market share by 10-15%. This reflects that plant-based food can change the world and count as the opportunity for us to expand the global plant-based food market.
Dr. Buranin Ratanasombat, Senior Executive Vice President, Innovation and New Ventures of PTT Public Company Limited And President Innobic (Asia) Company Limited, said "Development of plant-based protein products is one of the development goals in the food business for nutrition and nutraceuticals which is one of the business groups that Innobic has set a goal. This collaboration will adopt technology from abroad that can produce plant-based protein to have meat-like texture, taste, and appearance to set up a production in Thailand to provide more choices for the new generation of consumers who are health conscious as well as entrepreneurs who are interested in introducing new products. It is also preparing to enter the country's food production (Food for Future) in line with the new vision where PTT aims to drive all life with the power of the future (Powering Life with Future Energy and Beyond). Moreover, NRPT aims to support and push Thailand's strategy to become an innovative hub for healthy food in ASEAN as well."
Mr. James Hirst Chief Executive Officer of Plant & Bean (UK) said "From over 20 years of experience in the food industry, the Company has continually developed the quality of plant-based products by using technology to help improve taste, texture, and appearance, along with the development of manufacturing processes. This cooperation in establishing Plant & Bean (Thailand) will enhance the company's capabilities to be ready to support cooperation with other brands that want to build a high-quality plant-based protein product portfolio and increase accessibility to small entrepreneurs and consumers"