NRF collaborate with Eastwater to study "The first carbon sequestration from seaweed in Thailand"
30 September 2021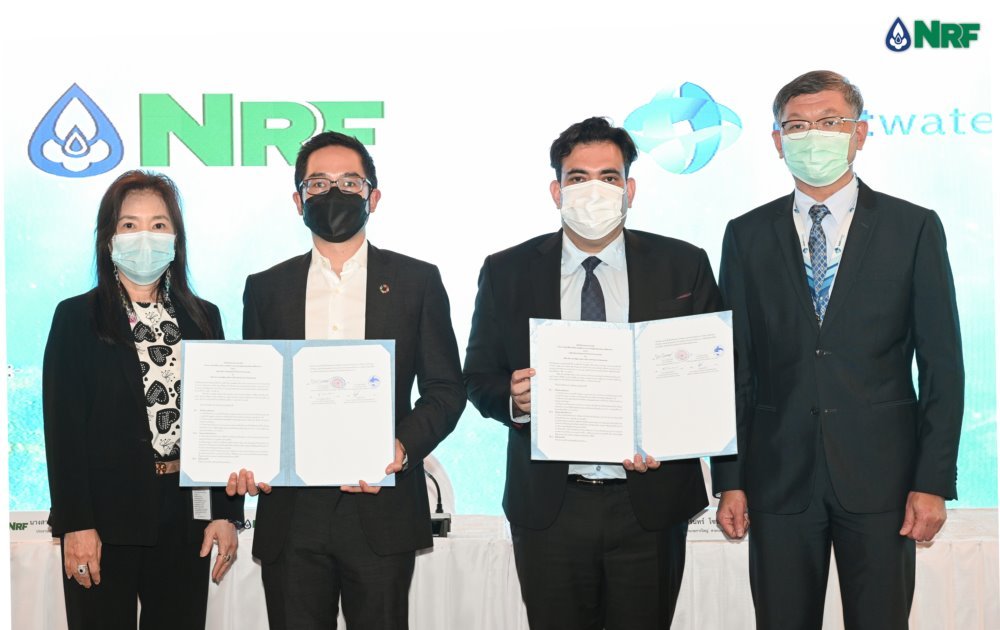 In order to take Thailand become net zero emission in 2050 and promote circular economy (CE) through take seaweed back as biochar, organic fertilizer, for upstream farmers. Expecting the global market value will grow to more than 197 billion baht in 2030.
NR Instant Produce Public Company Limited or NRF, the leading of food manufacturing company, together with Eastern Water Resources Development and Management Public Company Limited or Eastwater, the leading of integrated water management solution company, collaborated to develop a model for seaweed cultivation to capture carbon from the atmosphere as the first place in Thailand in order to promote circular economy (CE) along the supply chain. The objectives of this project are to conserve the marine environment in a sustainable and commercial way and improve the quality of life of surrounding communities.
NRF and Eastwater recognized the importance of marine ecosystem conservation. Therefore, both organizations held a memorandum of understanding signing ceremony for seaweed cultivation farming. Seaweed is a species of marine plant which has high potential to absorb and store carbon from the atmosphere which is one of the major gases that cause global warming problem. This project will preserve the natural environment of marine life as well as to improve the quality of life of communities, fishermen and nearby residents. It also promotes a circular economy by using seaweed produced as consumer goods and converted into organic fertilizers in order to raise the basic economy of the country as well as the economy of the community in the area as well.
Mr.Dan Pathomwanich, Chief Executive Officer of NR Instant Produce Public Company Limited or NRF (NRF) revealed that the company committed to be one of the Thai listed company driving the organization towards sustainability in order to establish a business model aimed to reduce carbon as a core mission statement because carbon emissions from the food sector account for one-third of global carbon emissions. Moreover, we aim to increase consumerattention to change from meat-based to plant-based food to become a global food company for the 22nd century.
"Today collaboration with Eastwater is a step forward in the development and conservation of a marine environment by cooperating to study the feasibility of the seaweed cultivation project especially Kelp, large brown algae, which has the ability to absorb carbon from the atmosphere through the marine ecosystem or Blue Carbon which is the first project in Thailand. Marine ecosystems are the largest carbon sinks and absorbers in the world. The resulting seaweed products can be further used to produce organic fertilizers for farmer, which are upstream producers of raw materials for NRF factory driving into Regenerative Farming in order to promote a circular economy for stakeholders in our supply chain. We therefore encourage farmers to grow organically. Aims to increase the food safety of NRF products and to deliver quality, safe and environmentally friendly products to consumers. It is considered another green investment channel for the company. I believe that reducing carbon emissions or decarbonization in agriculture and food sectors will be the new S-curve of the Thai economy. It is also a conservation and friendly economic activity. and create greater sustainability for marine and coastal ecosystems. It will also stimulate Thailand to become the Net Zero Emission country in 2050, which is faster than the government announcement in 2065," said Dan.
Mr. Charin Sony, Senior Executive Vice President and Chief Strategy and Business Development Officer (CSTBDO), Eastern Water Resources Development and Management Public Company Limited (Eastwater) added that "Today event is an important collaboration between NRF and Eastwater to develop carbon credit management pilot projects. With the expertise in food production of NRF combined with Eastwater's expertise in water management, it could potentially enhance and drive the project to maximize benefits for both companies in the Eastern Special Development Zone (EEC), surrounding communities and the country in the near term."
Eastwater has expertise in comprehensive water management both serving raw water. It has a raw water pipe network that is more than 500 kilometers long, covering 3 provinces in the eastern region, Rayong, Chonburi. and Chachoengsao Province industrial water production with a centralized industrial water production system that uses the largest sludge return technology in the eastern region which can produce industrial water up to 200,000 cubic meters per day for production and distribution to large industrial estates in Rayong province. In addition, Eastwater has always emphasized on sustainable water resource management. Therefore, it focuses on conservation and sustainable development of the environment for the nation.
This cooperation between the two organizations is a synergy of two leaders from sustainable food production and efficient water management in addition to help reduce carbon emissions from the atmosphere. It is expected that the global organic fertilizer market will grow by more than 13.56%, with a market value up to 197 billion baht in 2030, which can create a career and income for farmers, fishermen and coastal aquaculture and many surrounding communities. The operation in this time focuses on green economic growth along with operating on social responsibility and environment in line with the sustainable development goals of both companies.