Hemp House set for launch
24 March 2021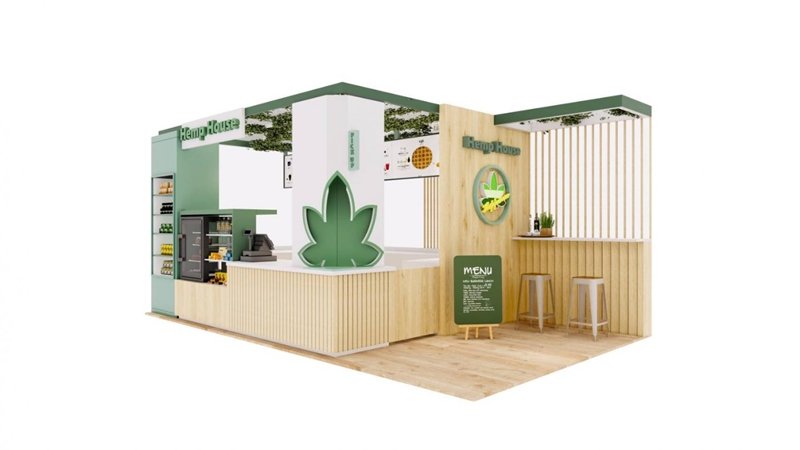 Hemp House outlets will feature hemp-based food and products. Operator, NR Instant Produce, is aiming to form a cafe-style hub under a franchise business model.
SET-listed NR Instant Produce (NRF), a producer of vegetarian and plant-based food, is preparing to open Hemp House, which sells hemp-based products, aiming to form a cafe-style hub under a franchise business model.
"Products in our shop will be blended with terpene oil extracted from hemp," said Dan Pathomvanich, NRF's chief executive, referring to the medical benefits of the plant to ease stress, anxiety and depression.
Mr Dan said the company has formed partnerships with 25-30 manufacturers of consumer products, mixing terpene oil with their goods to be sold via Hemp House.
The manufacturers include Look Chin Jung, Smooth-E skincare, Siang Pure Oil, Pennii Premuim Popcorn and Dentiste' toothpaste.
According to Mr Dan, the first pilot shop of Hemp House, occupying 20 square metres in EmQuartier Mall in Bangkok, is scheduled to open within April.
NRF expects to branch out with Hemp House to have 50 shops in Bangkok and the surrounding area within June and increase the number of stores to 100 by the end of this year.
"We want to expand in the same way Starbucks does. They have coffee beans. We have terpene oil," said Julpas Kruesopon, founder of US-based Golden Triangle Health Product (GTH), which invested in integrated hemp-based products in the US market several months ago.
NRF has joined hands with GTH to study and develop hemp-based products under the former's business diversification plan.
Early this month, NRF announced the acquisition of a 49% share in GTH in order to diversify into the hemp business.
The Hemp House will be the first hemp-based shop in Asia.
The hemp will be planted in a greenhouse at Khon Kaen University, said Mr Julpas.
In a next few weeks, NRF will announce another partner who will jointly develop a factory to produce terpene oil. The facility is expected to cost around 100 million baht.
Mr Julpas said the hemp business in North America and European Union markets were together worth US$559 million last year and the value is expected to grow to $700 million by 2026.
The hemp business has drawn interest from companies in Thailand after the government removed it from a narcotics list. Cannabis was also delisted, but its usage is restricted to medical purposes.
Legislators also voted in January to remove krathom, known scientifically as Mitragyna speciosa, from the narcotics list.
Source: https://www.bangkokpost.com/business/2088607/hemp-house-set-for-launch